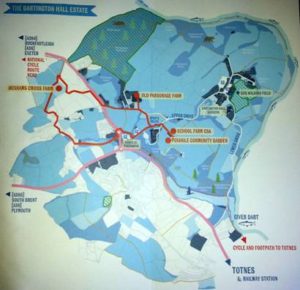 Foxhole Community Garden
Old School Farm
Dartington Estate
TQ9 6EB
Zoe Jong [email protected] 07505 805111
Walking/cycling
Starting at the Totnes Train Station Foxhole Garden is a approx 30 minute walk or 15 minute cycle along the cyclepath/riverwalk that leads towards the Dartington Cider Press Shops. It is mostly flat apart  on well made paths from one steep short uphill just behind the Cider Press.
When you reach the Cider Press Shops,  pass the Toy Shop and take a left which will take you up a steep uphill past the overflow carpark.
Continue walking with the cricket pitch on your left and the Foxhole Centre on your right. Soon you will see the Foxhole Car Park on your right. Look to the right and you'll see a sign for Old School Farm. Foxhole Community Garden is listed as one of the businesses.
Follow the track all the way down to the Old School Farm car park and you'll see a sign for Foxhole Community Garden by the stone wall at the back. Through the gate (shutting it behind you) and you are in the garden!
Driving
You can reach the Garden from the main drive of Dartington Estate, there are two entrances   The route in the picture above is starting from the main gate.
Bus
Three buses serve Dartington.  The FirstGroup X80 and the StageCoach Gold both stop in the village, on the timetables it is called "Shinners Bridge", you can follow the blue route through the Cider Press Shops to get to the Garden.
The Country Bus 165 goes into the centre of the Dartington Estate.  The green route is a way to get to the Garden without having to walk on the main drive.